Blog
The Dudley Vase – 66cm High and 74.5 Dia.

September 2018

This Coupe de Pise of the Second Empire was designed and executed at the Manufacture de Porcelaine de Sèvres. The Second Empire refers specifically to that period in French history where France was under the rule of Napoleon III. There are two date marks of 1853 and 1854 under the foot of the Coupe referring respectively to when the form was modelled and when it was painted and gilded.

The Coupe de Pise, as a type or model, was designed by Jules Constant Peyre (1811-1871) in 1853. This piece is therefore one of the earliest examples of its kind.

Peyre had trained as a sculptor before then beginning his career at Sèvres in 1848. He worked first as the sous-chef des pâtes du department des tourneurs and was eventually made dessinateur en chef or head designer.

It appears that only a small number of Coupe de Pise were ever manufactured at Sèvres. Although the exact number is not known, extant ledgers record that between 1855 and 1861 only twelve examples entered the manufactory's shop for sale (and there is at least one example of a later date). Of these twelve pieces, seven of them were decorated with figures and ornaments on a celadon ground; one with flowers on a black and blue ground; two with a blue ground and burnished gold; and two with crowns of flowers and gold.

It is clear from these descriptions that the Coupe de Pise under investigation must be one of the two belonging to the last group (decorated with the crown of flowers and then gilt), the first of which was finished by June 1855 when it entered the shop at Sèvres ('décor en or couronne de fleurs'). The second piece ('filet d'or couronne fleurs') only entered the shop two years later, in February 1857,

Costs associated with producing the Coupe de Pise model

Shortly after Peyre had conceived of the Coupe de Pise in 1853, Victor Regnault, who was then the Director of Sèvres, compiled a list of all major costs associated with producing this form. His detailed evaluation included everything from the amount spent on the hard-paste material to the costs of modelling; the cost of firing; as well as incidental expenses. Regnault itemised the costs in two separate lists – one for the tazza-shaped body and one for its foot.

An examination of these account books reveals that making the tazza section of the Coupe cost 210.56 Francs. This included the cost of the raw materials, the modelling and the firing, with the mould an additional 60 Francs. In total the body cost 309.61 Francs to produce. Added to this was 74.88 Francs for the 'simple' foot.

Decoration of the Coupe de Pise

In May 1854 a Coupe de Pise is recorded in the account books of Jean-Joseph Fontaine. Fontaine was a highly skilled flower painter at Sèvres who would work there for thirty years. Between May and December 1854 he received payment on account, in several instalments, for painting 'de fleurs de la coupe de pise', as well as for gilding and burnishing.

Fontaine's talent as a painter is evident in his handling of the Coupe's decoration where he has skilfully rendered blush-coloured wild roses in various states of bloom.

The fuller, rounded rose on the tazza portion is almost certainly Centifolia also rather unkindly called the Cabbage Rose, which was known to have a very fragrant scent. It was often featured by the Dutch old masters in their still-life paintings and is thought to have originated there in the late 16th century.

The smaller, single rose painted on the gilded underside of the socle is probably Rosa rubiginosa, commonly called Sweet Briar. This wild rose is native to the United Kingdom and Europe and its young leaves smell deliciously of green apples. The distinctive red berries that appear on the vase are rosehips, the fruit of the wild rose plant, although once flowering they would not have occurred together. (The flowers would be out in June and the hips not red until September or October).

On the underside of the Coupe de Pise under investigation there is a painter's mark of 1854 an it is highly likely that Fontaine's accounts (of that same year) refer directly to the painting, gilding and burnishing of this Coupe de Pise. Fontaine was paid a total of 2400 Francs for the decoration.

Provenance

It has already been mentioned there were two Coupe de Pise decorated in identical fashion with a crown of flowers that were painted at Sèvres and which entered the shop in 1855 and 1857 respectively.

Taking into account the 1853 and 1854 marks on the underside of the Coupe de Pise, it is only logical that the vase under investigation must be the first one that entered the shop in June 1855.

According to the register of sales at Sèvres, this vase – described as 'Coupe de Pise - fleur' was sold for 5,500 Francs to a 'Lord Ward' on 22nd March 1856.

'Lord Ward' was William Ward (1817-1885), who was then styled the 11th Lord Ward. In 1860 Ward would eventually be made the 1st Earl of Dudley of the second creation after inheriting the title of his 'mad' cousin who had died years earlier. Long before the title came his way however, Ward received the money and the magnificent properties that came along with it. This included Dudley House on Park Lane into which Ward moved in 1847.

It is not yet established whether Lord Ward visited the Sèvres Manufactory in person or whether he arranged his purchases through an intermediary. Comtemporary newspaper accounts show that he was certainly in Paris in November 1855, on his way home to London. In addition he was listed as a part of a special mission to Russia in 1856, during which period he could also conceivably have travelled to Sèvres.

There is indisputable evidence that the Coupe de Pise purchased by Lord Ward is the same one under investigation. A side-by-side comparison of the Coupe with the one seen in the photograph of the yellow drawing-room at Dudley House shows that they are one and the same.

Dudley House was designed by William Atkinson and built between 1827 and 1828. It eventually underwent a series of alterations instigated by Lord Ward, under the auspices of Samuel Whitfield Daukes. Ward was enamoured with the French-style after Louis XVI and several French firms were employed to reproduce this look in the interior decoration. In addition, Lord Ward, and later as the Earl of Dudley, was a noted collector of porcelain, including Sèvres, and bought voraciously on the secondary market. His acquisitions started in 1848, the year after he took over Dudley House, and only peaked post 1870.

What happened to the Coupe de Pise post Dudley House

In addition to a magnificent collection of French porcelain, the 1st Earl of Dudley formed a collection of paintings that was admired during his lifetime. He was called 'munificent collector' by no less than Ferdinand Rothschild who wrote about his contemporaries as collectors in a privately-published memoir. The 1st Earl lived at Dudley House until his unexpected death from pneumonia in 1885. His numerous houses and contents were inherited by his son William Humble Ward (1867-1932), now the 2nd Earl of Dudley.

On 21st May 1886 the 2nd Earl sold through Christie's in London the extensive collection of Sèvres, one 'old porcelain' that had been formed by his father. The Coupe de Pise (perhaps not being quite 'old' enough) was not included in that sale.


Known comparable examples include:

1. Victoria & Albert Museum (V&A, 2682-1856): Porcelain with pâte-sur- pâte decoration, dated 1854, by Hyacinthe Regnier.
2. Musée Condé, Chantilly, no 112 or 116.1855
3. Christie's New York, 18 October, 2012 lot 187, dated 1878, Coupe de Pise in celadon, marks 1852 and 1857.

Condition

Small chips restored to the end of the socle.
---
Nuremberg or South Bohemian Engraved Goblet with Spiked Gadrooning 1670-1700

April 2018

The stem has a typical formation for goblets produced in Nuremberg in the second half of the 17th century. The combination of four ball knops with alternating blade knops is distinctive of glasses made in Nuremberg and to a lesser extent Southern Bohemia for a shorter period in the late 17th century.

The spiked gadrooning around the base of the bowl was only fashionable for a limited period from 1670 to 1700 latest. The merese at the base of the bowl is a vestige from the 'Façon de Venise' and an earlier indicator.

Engraved with an arboreal hunting scene a hare being pursued by a hound. Themes involving pursuits be they hunting scenes, cavalry chasing foot soldiers, highwaymen and coach and horses are a consistent theme on many goblets of this period. The shape of the bowl and the transparency of glass is a good medium for such themes.

This is the largest example we have ever offered for sale at 23.7cms and the only example with spiked gadrooning.

http://collections.lesartsdecoratifs.fr/verre-4

23.5cm high
9cm dia bowl
12cm dia foot
---
Pair 18th Century Locrè Candlesticks

October 2017

A very fine and rare pair of French late 18th century ormolu mounted Locrè porcelain candlesticks, delicately painted with naturalistic floral bouquets and garlands. The ormolu finely chased and modelled with exotic birds and chains. Circa 1790.

Height: 30 cm
Base diam: 10 cm
Provenance : Private collection of an English Lord, thence English private collection

This pair of ormolu mounted candlesticks was made by the Locré porcelain factory. This was one of the most important and productive pre-Revolution Paris factory's making hard paste porcelain.

Jean-Baptiste Locré was a businessman who invested his fortune in building the factory at La Courtille. He invited Laurentius Russinger, a porcelain specialist and sculptor who had worked at the Höchst factory to work there in 1772 and in 1777 appointed him as manager. By the late 1760s the right kind of clay (kaolin) to make glassy Meissen style porcelain, had been discovered in France at Saint-Yrieux, near Limoges. This was used by Russinger to produce a hard-paste porcelain similar to Meissen that could withstand boiling water, which was an important selling point for the factory's wares that they used in their advertisements. Sometimes known as 'La Courtille' after its location in Paris, the factory is also sometimes referred to as Locré, Russinger and Pouyat - François Pouyat was a porcelain dealer in Limoges who supplied the clay. The factory owed him so much money he became one of its partners and eventually he and his three sons took over.

Locré made the same type of objects as the famous Sèvres factory; a wide range of table and tea wares and useful items. A variety of painted and gilded decoration was used from simple floral sprigs to elaborate Etruscan, neo-classical or other fashionable designs. It was even exported to England, where it has been found with English painting by William Billingsley. Biscuit figures were well modelled, doubtless under the direction of Russinger. A Sèvres memo of 1777 spoke of the enterprising Locré having secured moulds of Boizot's new figures before they were issued by the royal factory. Gérard père, a Sèvres painter, was perhaps the medium of these transactions. Christophe Mö of Mennency and Seceaux worked for Locré and his signature is sometimes found on figures. The factory continued to flourish even during the Revolution.

The crossed torches, registered in 1773, should be carefully distinguished from the arrows ascribed to the Rue de la Roquettes. The flames of the torches point upwards, the feathers of the arrows downwards and the initials which sometimes accompany the mark give an indication of direction. It is obvious that the mark was commonly drawn in such a way as to resemble the crossed swords of Meissen.
---
An important Chelsea clock-case with allegorical elements representing Dawn.

October 2017

Circa 1756

Two putti, one asleep, one awake, on a balustrade above a 'setting dog', while a drake emerges from rushes beneath a waterfall and a small sphinx also rouses itself.

Small red anchor mark to the rear.

Original movement by Edward Welch - London (1744-62) Signed Edw'd Welch London N59.

Condition:

Restoration to some leaves, one wing of right putto, both wings of left putto, tail of dog, end of scythe and the branch behind the sphinx. One hand of the clock has been replaced.

Literature:

Blunt, Reginald, The Cheyne Book of China ad Pottery, Pl.10 No 119.
The Hutton Collection

Adams, Elizabeth, Chelsea Porcelain, Chapter 8, The Red Anchor Wares, P.117, P.199, note 29, where the clock in Blunts book is referred to.
---
An exceptional pair of Worcester vases and covers

February 2016

An exceptional pair of Worcester vases and covers circa 1765-68 of hexagonal form with domed covers, richly decorated in kakiemon style with a dragon-like creatures coiled around a bamboo stalk, alternating with panels of flowering plants and insects, reserved on a rare shagreen ground, the shoulders with dense iron red scrollwork, 29.2cm (11 1/2in)

Zorensky catalogue, fig. 302. Provenance: Sotheby's, 27 February 1968, lot 112, The Phelps Collection, Christie's, 1 October 1984, lot 100.

It appears that a small number of pairs of similar vases were made. Each is individual in terms of the pattern. The shagreen ground is used at Worcester on important vases and a series of dessert plates. See John Sandon, The Dictionary of Worcester Porcelain, colour pl. 75 for similar decoration.
---
Tiny Du Paquier tall cup and Vienna trembleuse saucer

November 2015

A tiny Du Paquier tall cup and Vienna trembleuse saucer painted identically to the larger version. The cup, circa 1735. No mark. The saucer is a slightly later and dates Circa 1740-5 and is incised 5 and painter's mark 51 in orange. Height of cup 2¼ inches (5.75cm). Diameter 3¾ inches (9cm).

Provenance: The Ruth Hoff Collection.

The combination of the cut-flower assemblage is one of the most well known on Du Paquier wares of the 1730-40s, which were so precisely painted. Similar flowers can be found on the larger objectsi; a good example is a silver mounted tankard, the silver dated to 1729ii

The combination of this piece is reminiscent of the engravings of Jacques de Gheyn II and Maria Sibylla Merianiii, whose botanical drawings were the inspiration for many designs on eighteenth century European ceramics, especially early Vincennesiv. Other pieces of Du Paquier can also be linked with engravings of Jacob Hoefnagel from his book Archetypa Studiaque Patris Georgii Hoefnagelliiv. This was an influential pattern book for applied arts during the sixteenth to eighteenth centuries. These engravings were generally plagiarised throughout the next two centuries and Johann Christophe Weigel replicated his own edition in circa 1700vi. These engravings were also the inspiration for many of the flora and fauna paintings found on Du Paquier, Meissen, Vincennes and the German Hausmalers of the early eighteenth century porcelainvii.

The symbolism of the rose was most significant in the eighteenth century, a fully blown rose represented a filled and complete life, whilst the bud suggested a life ready to commence. By holding a rose a lady also indicated availability!

The tall cup with its high, cut-out trembleuse cage was a popular design at Du Paquier and seemed to suit this especially fine and thinly potted porcelain.

The small example, which could have been especially made for a child, is unrecorded in the literature.


i Sturm-Bednarczyk, Elizabeth, Claudius Innocentius du Paquier Wiener Porzellan der Frübzeit 1718-1744, 1994, p135, pl155, for a waterfront, and p113, pl 129, a candlestick, both with this type of decoration.

ii Hayward J F, Vincennes porcelain of the Du Paquier Period pl. 45

iii Wettengl, Kurt, Ed. Maria Sibylla Merian, Artist and Naturalist, p 102, ill p88, cat. No.35

iv Prèaud, Tamara, and Antoine de Albis, La porcelain de Vincennes, 1991, p137, pl 76 for a pot à fleurs

v Hoefnagel, J, Archetypa Studiaque Patris Georgii Hoefnagellii, 1592, "Nature, Poetryand Science in Art", Thea Vignau-Wilberg, republished Munich 1994,

vi Weigel, J C, Blumen-Lust bestehend in alerband annehmlichen Zier geflochtenen Stäuchern…erster Theil….Numberg c.1700.


vii Cassidy-Geiger, Maureen, The Metropolitan museum of Art Journal 1996, p.100, "Graphic sources for Meissen Porcelain: Origins of the Print Collectionin the Meissen Archives"
---
Large Sèvres tray (plateau de déjeuner Hébert) painted with an elaborate arabesque pattern in a bright palette, the central panel of a gathered fabric roundel. Date letter LL for 1788

September 2015

Influenced at this period by the 'Service Arabesque', this was commissioned in 1783 by Louis XVI. The service was incomplete ten years later when the king was executed during the French Revolution. Two years later the Revolutionary government gave the service to the Minister of the King of Prussia, Karl-August, Freiherr von Hardenberg, who successfully negotiated peace between France and Prussia in 1795.

Although this service takes its main inspiration from Nero's Golden House (Domus Aurea) other sites which were being excavated at the time whose decoration was characterised by scrolling arabesque and grotesques. Similarly, at this time serval other books were being published in Italy mainly due to the re- appearance of Pompeii and Herculaneum. One such tome was five volume book entitled, The Prodromo delle Antichità di Ercolano (Preface to the Antiquities of Herculaneum) In 1755 the King Charles of Italy appointed fifteen savants to a newly formed Accademia Ercolanese to study the artifacts of Pompeii and Herculaneum. The work that ensued appeared over several years from 1757-1792

Volume 7, the penultimate volume, published 1779 dealt with all the paintings of Herculaneum and region, and were well engraved and described.

There is certainly some correlation between the famous mosaic wall at Herculanium and the central panel of this large Sèvres déjeuner.

Literature: John Whitehead, French Porcelain Society Journal III, 2007, pp.152-165.
David Peters VOL. V 95-6, pp. 1085 -95 for information on this full Arabesque service. Mention is made of a cabaret being made to accompany this service, but there is no mentioned to which shape it was?
---
An impressive large Spode porcelain tray, circa 1825-30, superbly painted with a copy of a Dutch flower painting entitled, Flowers and Fruit after Jan Van Huysam.

August 2015

An Important and impressive Spode Tray, circa 1825-30, superbly painted with a copy of a Dutch flower painting after an original oil by Jan Van Huysam.
The pendent to this painting was recently in the exhibition at Houghton entitled, 'Houghton Revisited, The Walpole Masterpieces from the Catherine the Great's Hermitage'. The pair of flower paintings by van Huysam (costing £300) was purchased by Sir Robert Walpole for Houghton Hall, Norfolk.

The source for the painting on this Spode Tray would have been copied from a print engraved by Richard Earlom after 1788, which was first published by John Boydell from a series of 162 prints bound in two folio volumes, entitled The Houghton Gallery and executed throughout the period 1774-1778.

This tray has a fine provenance coming from the famous Spode Copeland Collection, which until recently was displayed in Trelissick House, Cornwall. The tray was exhibited in the bicentenary exhibition of Spode in 1970 and is illustrated in all the books on this factory.

Provenance: Stonor and Evans
Spode Copeland Collection, Trelissick House, Cornwall
Exhibited: Spode Bicentenary exhibition, 1970 and is illustrated in all the books on this factory

Literature: T.G. Cannon, Old Spode, pl.14
Leonard Whiter, Spode, Col. pl.209
David Manchip, Encyclopaedia of British Ceramic painters p.189, fig 232
Vega Wilkinson, The Copeland China Collection p.17
Spode-Copeland-Spode , p.177, col. pl. 115

T. Morel et al, Houghton revisited, The Walpole Masterpieces from Catherine the Great's Hermitage, p.101 for the pendent of the flower painting by van Huysum in the Common Parlour and p.222
---
Masterpiece 2015

July 2015

It hardly seems possible that Masterpiece 2015 has come and gone for another year. As usual we took the opportunity to welcome our clients, old and new, from around the world and to bring stunning pieces of porcelain to their attention. The fair was a bustling treat for the eye and a feast for those hungry to add to their collections or just learn more about the many beautiful objects on display.

The trend this year as in previous years was for quality and rarities and we managed to produce pieces that fitted the bill. Many rare and unusual pieces were sold to clients wanting to enhance their collections or in some cases start new ones. A marvellous group of naturalistic porcelain comprising of Chelsea, Worcester, Meissen, Chantilly and Longton Hall, was snapped up eagerly.

We exhibited pieces from all the major factories including Meissen, Sèvres, Chelsea, Worcester and several of the smaller, lesser known German Thuringian factories such as Volkstedt and an extremely rare Paris factory by the name of 'Antoine Pave'.

We had a fine display of pieces that were modelled and decorated by such renowned Meissen artisans as J.J. Kändler and Peter Reinecke.

Kändler pieces are of particular importance as he was the modelmaster at Meissen from 1733 after succeeding Johann Jakob Kirchner. As an apprentice Kändler perfected his talent under the guidance of Thomae in Dresden and was later appointed court sculptor by 'Augustus II' in 1731. He is known for his animal sculptures and his figures, in particular, the Italian Comedy characters. His work resulted in the production of exquisite figurines in rococo style that influenced porcelain making throughout Europe. His brilliance can be seen in exhibits found in museums of art and porcelain around the world. Peter Reinecke was one of Kändler's assistants and he succeeded him after his death at Meissen in 1775. The pieces we exhibited were animal figurines and characters from Commedia dell arte.

We took a beautiful display of Sèvres porcelain and were delighted to be able to offer so many superb examples from Sèvres' master painters and gilders such as Antoine-Toussaint Cornailles, Charles-Nicolas Buteux and Jean Chauvaux. Catalogues of decorator and date marks make it relatively easy to attribute pieces with great accuracy which adds to the pleasure of owning items that can be identified so clearly; knowledge that brings you within touching distance of their creator.

Our theme this year was entitled:

ALL CREATURES GREAT AND SMALL

We successfully themed our exhibition at Masterpiece 2014 inspired by 'All things bright and beautiful ... ' and indeed, it was a veritable feast for the eyes. The centre piece was an amazing 18th Century ceramic garden, (the title of which was, 'A Fragile Garden') and caused many people to revisit our stand to admire this Masterpiece, although it was sold in the first few minutes of the opening of the Fair.

So, it followed that this year's themed exhibition should be the second part... 'All creatures great and small'.

And so it was... except there is often an added twist to the tale and this year's was a collection of 18th century ceramic birds as the main theme.

The birds on display came in all shapes and sizes, both singly and in pairs, 'in boccage' and as tureens; from a South American green parrot, to a pale yellow canary, a family of yellow canaries in a nest, a blue tit, a finch, a kingfisher, a pheasant, a pair of chickens on their nests, partridges, a duck and duckling, a miniature hawk, jackdaws and peacocks - the list is nearly endless.

It was a veritable ornithologists dream!

A special part of this themed exhibition was a collection of 18th Century bird tureens in various shapes and sizes. These cleverly designed covered dishes are in the shape of a recumbent bird, and are created by the lid being the bird, which sits snugly onto the base. A nest of intertwined feathers and straw where the lid and base come together encircles them. This popular 18th century design is represented by a Meissen model and the three main English ceramic factories of Bow, Derby and Worcester. The Worcester example has been left 'in the white' with just a minimal amount gilding which pick out the eyes and feathers in the nest. These were painted in gold in the famous London atelier of James Giles. It makes a most startling effect. These tureens can still so easily be enjoyed on today's table, not only as part of the decoration, but they can be filled with delicacies and sweet meats just as they were intended to be used 200 years ago.

Moving away from birds, other curious creatures included both as figurative models and also paintings of animals and birds on the porcelain; Snails 'a-top' of little Vienna pots; prickly porcupines painted on Meissen, a blue tit nibbling at a half moon melon; a Meissen figure of a 'chicken plucker' and some very unusual dogs.

Finally to hold all these flights of fancy together, there was another collection to decorate the walls, but this time made of wood! Made in the late 19th century in the Austrian Tirol these delightful and colourful birds embraced this avian theme drawing one into the stand and encircling two fabulous large Copenhagen chargers painted with exotic birds.
---
A Sèvres hard-paste Plateau de déjeuner, 1ère grandeur, fond burgos mosaïque en or cartel dans le milieu (sic) paysages et animaux d'apres M. Demarne." 1825.

July 2015

A Sèvres hard-paste Plateau de déjeuner, 1ère grandeur, fond burgos mosaïque en or cartel dans le milieu (sic) paysages et animaux d'apres M. Demarne." 1825.

The large central painting is of an extensive country landscape, painted by Mme Caroline Robert (née Demarne), after a painting by Jean Louis Demarne (her father)
The border of a burgos or purple lustre ground, is richly gilded with an elaborate mosaïque pattern, by Louis Auguste Victor Richard.

Mark: Large printed mark in blue of a large crown over interlaced l's, in accordance with the period of Louis XVIII ( died September 1824), when this tray would have been made, but decorated in 1825.

Mark: incised: 18-9 and a large script L e

Dimensions: diameter 17 3/4 in, 45 cm

Provenance:
Henry Richard Greville, 3rd Earl of Warwick, Warwick Castle.
Commentary

This plateau ovâle appears in the Sèvres sales records as: "Plateau de déjeuner fond burgos mosaïque en or cartel dans le millieu (sic) paysages et animaux d'apres M. Demarne." It is exquistly painted by Mme Caroline Robert, (née Demarne : peintre 1819-1827) and gilded by Louis August Victor Richard, (doreur 1818-1848 ; peintre sur verre 1837-1838.)
(ANMS, Carton Pb6, feuilles d'appreciation 1825, reg. Vv1, folio 244 verso no 77).

The plateau was part of a dèjuener consisting of six pieces. Written in the sales register for October 1829, it shows that the buyer was 'Milord Warwick', who acquired it directly from the Sèvres manufactory. The total dèjeuner was priced at 1850 livres. The plateau ovale was priced at 900 livres. (ANMS, Registre Vz5 folio 25 verso).

The whole dèjeuner consisted of:
2 tasse et Sou(coupe) A.B. at 120 livres each, 240 livres - two cups and saucers (Alexandre Brachard's design)
1 pot a sucre 200 livres - one sugar bowl
1 pot a lait 150 livres - one milk jug
1 theyere ( théière) 240 livres - one teapot
1 Boite …… (?), 120 livres (a box for carrying?)
1 plateau ovale 900 livres - one tray.

Henry Richard Greville 3rd Earl of Warwick (1779-1853), inherited Warwick Castle from his father, the 2nd Earl, in 1816.

The plateau ovale and the pot à sucre were sold in The Syon Park Sale, Sotheby's May 1997, lot 794.

This sale included properties from Syon Park, Warwick Castle, Alnwick Castle, Northumberland House and Corsham Court.

These two pieces appear to be the only surviving elements from this dèjeuner. The whereabouts of the sugar bowl is unknown.

Jean-Louis Demarne worked at Sèvres from 1808 to 1813 and then again from 1821 to 1826. However, he is mainly known as an oil painter and his works can be seen in museums throughout the world.

Also known as de Marne, he was born in Brussels in 1752 (?). He was a pupil of Gabriel Briard and his early genre was of historical subjects. He latterly concentrated on the classical landscape genre, being greatly influenced by 17th century Dutch masters such as Aelbert Cuyp, the van Ostade brothers, Paulus Potter and Adriaen van de Velde. All these artists were highly fashionable in Paris at this time and their work commanded high prices.

In 1806, an official letter from Vivant-Denon, the general director of The Napoleon Museum, informed Demarne that the Emperor had chosen him to paint the Entrevue de Napoléon et de Pie VII dans la forêt de Fontainebleau, le 24 novembre 1804. This is now at Fontainebleau.
In 1783 Demarne was made an associate of the Académie Royale but did not become a full member. He showed regularly at the Salon between 1789 and 1827.
He seems to have cared little for official honours and was unwilling to seek membership of the Institut de France.
He was however awarded the Légion d'honneur by Charles X of France on April 23rd 1828.
Jean-Louis Demarne died at Batignolles near Paris on March 24th 1829.

Working for the Sèvres porcelain factory between 1809 and 1813 and then from 1821 and 1816, he is recorded as having made a number of landscapes and figure etchings for the manufacture as well as painting directly onto Sèvres porcelain.

His daughter Caroline Robert, née Demarne, was an accomplished painter in her own right at the Sèvres factory, between 1819 and1827. This piece illustrates her fine painting skills, where she is faithfully copying one of her father's paintings.


Literature:

Tamara Préaud et al, The Sèvres Porcelain manufactory, Alexandre Brongniart and the triumph of Art and Industry, 1800-1847,
p. 83, for mention and discussion of a painting by Demarne on a Sèvres vase 'Clodian' with a Napoleonic theme, "A conscript departing a paternal farm", and a copy of his painting of "Henri IV returning from the battle of Joyeuse",(1809) on a vase 'Cordelier'.

Samuel Wittwer et al, Refinements & Elegance; Early nineteenth-century Royal porcelain from the Twinight Collection, New York, p.306, no.94, & p.410, no. 140, for examples of the plateau ovale.

Examples of Jean Louis Demarne's paintings of landscapes with cattle can be seen in the following museums:

The National Gallery of Australia, Canberra
The Bowes Museum, Castle Barnard
The Wallace Collection, London
The Hermitage, St Petersburg
The Rijksmuseum, Amsterdam.
---
A rare Höchst Mantel Clock, by Lawrence Russinger, and Putto

September 2014

A celebration of craftsmanship of two very different disciplines – porcelain and clock-making. This rare mantel clock could also be the collaborative work of two of the great porcelain modellers of the period: Lawrence Russinger and Carl Vogelmann.

Lawrence Russinger is a well-known and highly regarded porcelain modeller most commonly associated with Locre, one of the finest porcelain manufacturers of Hard Paste porcelain in France. This exceptional piece comes from an earlier period when Russinger was working at Hochst.

In 1773 Jean-Baptiste Locré (1726-87) established a porcelain factory at La Courtille in the rue Fontaine-au-Roi Paris, which he named "Fabrique de la Courtille". Success followed and soon his business proved one of the most productive of the Paris Porcelain Factories. Confidence and quality was enhanced after the German born modeller Laurent or Laurentius Russinger (1739-1810), went into partnership with Locré in 1777.

Carl Vogelmann is most commonly associated with the Kelsterbach porcelain factory where he became very well known for his figures, such as the putto on the top of this clock. However, he too worked for a very short time at the Hochst factory in the early part of his career.

This clock was made in the early years of both these modellers careers and it clearly demonstrates their considerable skill and craftsmanship.

Literature:
Höchster Porzellan des 18 Jahrhunderts aus Privatbesitz – for similar lattice and rococo modelling
Höchster Fayencen und Porcellane – Mainz 1964 – for similar lattice and rococo modelling and figures by Carl Vogelmann.
---
Magnificence at Masterpiece - New and existing clients buy top quality pieces

July 2014

These important and rare biscuit vases and covers formed an important feature of our stand at the recent Masterpiece Fair.

Originally the pieces belonged to a service which included a colonnaded surtout de table in gilt bronze, made of grey and yellow marble, to be filled with Sèvres porcelain.

The shape was specifically created for the surtout (the 5 meter long table centrepiece) to compliment the elaborate service, (service du dauphin)and were to be mounted upon circular plinths flanked by three putti stretching up to the vases.

An example of a complete vase with putti, enfants a la colonne (Inv.3136A purchased 1886) is in the Musee des art decoratifs in Paris, and another was sold in the Sylvia Adams Collection (Bonham's, London 9.5.1996, lot 27).

Masterpiece Fair, now in its fifth year, is a firm fixture for collectors, curators and designers from around the world, who are drawn by the astonishing diversity of material as well as the high quality of the works of art offered for sale.

High profile visitors included Charles Saatchi, Jasper Conran, Rod Stewart and Zandra Rhodes as well as museum collectors and patrons from world-renowned institutions including The Metropolitan Museum of Art, Museum of Fine Arts San Francisco, The Fitzwilliam Museum, The Victoria & Albert Museum and Sir John Soane's Museum.

We were delighted to be exhibiting once again, showing some of our very best pieces, which were appreciated by a great number of our existing clients as well as many new ones. We remain dedicated to offering the very best porcelain we can find to enthuse and excite.

Literature: The enfants a la colonne is recorded in Le Biscuit de Sevres by Bourgeois (no.221) where it is described as being modelled by Duplessis

Note: A plaster model is labelled as a vase cassoulette a monter retained in the Sèvres factory archives.
---
Strong Sales at the BADA Fair Confirm Signs of a Buoyant Market

May 2014

We were delighted to be exhibiting at this prestigious event once again which seems to go from strength to strength. The event provided us with an excellent opportunity to meet new clients and we look forward to continuing our relationship with them in the coming months.

Our new clients came from as far as America and Australia and they bought serious pieces of English porcelain. Our regular clients were keen to see what we would unveil at the fair which resulted in a flurry of activity and sales of both English and Continental porcelain.

Here are some highlights from the Press Release released immediately after the fair:

'Spring sunshine, record crowds and strong sales marked the 2014 BADA Fair, the only internationally renowned event exclusive to members of the British Antique Dealers' Association.

"The opening of the Fair was incredibly busy to the point where we could hardly move on the stand!" commented Laura Bordignon, Chairman of the Fair. "The quality of visitors seems to improve year on year". This sentiment was echoed by many of the exhibitors who commented on the knowledge, commitment, wealth and cosmopolitan nature of visitors to the Fair.

Sequinned showgirls selling raffle tickets proved a highlight of The Charity Gala on the opening evening of the Fair in aid of The Neuroblastoma Society, which attracted around 200 supporters. The programme of talks, an established feature of the Fair, was as successful as ever, with each talk fully booked prior to the opening of the Fair.

The profile of the BADA Antiques & Fine Art Fair has grown and with it the profile of its visitors. Visitors to the fair included HRH The Duke of Kent; The Duke of Devonshire; Bob Geldof and his girlfriend Jeanne Marine, performer Holly Valance; the acclaimed photographer, Harry Benson; the actress Julie Christie; Arsenal player Theo Walcott; Newcastle United manager Alan Pardew; Made in Chelsea cast member, Mark Francis; collector Charles Saatchi and companion Trinny Woodall and the gardening guru, Alan Titchmarsh'

The BADA Fair 2015 will take place from 18-24 March 2015.
---
A stunning collection of three Barr, Flight & Barr Worcester Vases

May 2014

The Worcester Warmstry House factory had been purchased by its London agent, Thomas Flight, in 1783. A royal visit and a subsequent order for a breakfast service 1788 helped to secure the company's reputation and a year later it was awarded a Royal Warrant by King George III and his wife Queen Charlotte.

By the early nineteenth century the Barr, Flight and Barr partnership was at its peak and produced exception pieces for the aristocratic classes. 'Porcelain services were made up at a customer's request with views of his own properties and grounds, local beauty spots and landmarks. English aristocrats travelled around Britain in search of Picturesque and beautiful landscapes. Prints of country houses were published and fashionable places such as Cheltenham, Worcester and Malvern were depicted on porcelain, alongside famous beauty spots' (from www.worcesterporcelainmuseum.org).

These three vases are a fine example of this period. The large vase is painted with "Scene on the Wye, near Goodrich Castle"; one of the small vases shows "Colchester Castle, Essex" and the other depicts "Beauchief Abbey, Derbyshire". All are inscribed on their bases.

Dimensions:
Central large vase 27cm high

Illustrated:
The Dictionary of Worcester Porcelain Vol. 1 (1751-1851) Page 51
---
Make it a day to remember

February 2014

Make it a day to remember

We will be exhibiting at the BADA Antiques & Fine Art Fair between Wednesday 19 and Tuesday 25 March 2014 and very much hope you will visit us there. The fair takes place at the Duke of York Square, just of Sloane Square in London's fashionable district of Chelsea.

The BADA Fair has an unrivalled reputation for quality: all exhibitors are members of the prestigious British Antique Dealers' Association and all exhibits for sale are carefully examined by a panel of experts for quality and authenticity, before the show opens to the public. There is no better opportunity to buy the very best antiques, and works of art, from Britain's leading specialists.

But the BADA Fair also provides a wonderful day out: not only an opportunity to browse and buy top quality antiques, but also to meet with experts, and all in a stunning setting. The fair has its own a la Carte restaurant, The Cellini, which offers lunch each day, and world-famous Champagne House, Taittinger, provide sparkling refreshments at their Champagne Bar – the perfect place to celebrate a purchase perhaps?

If you are visiting from further afield, take advantage of special hotel deals, and extend your stay in London. Small boutique hotels, all within walking distance of the fair, offer special rates to BADA Fair visitors at the time of the fair, so why not treat yourself. Full details available from www.bada-antiques-fair.co.uk.

The BADA Fair gives us an opportunity to share our wonderful stock with new audiences as well as catch up with our regular clients.

We very much look forward to seeing you there.
---
Important Worcester Porcelain jug painted by James Rogers

January 2014

Important Worcester Porcelain jug painted by James Rogers

To be offered for sale at the BADA Antiques & Fine Art Fair 2014

The Worcester Porcelain Factory employed many notable painters to decorate their wares, the majority of whom signed their work. James Rogers, however, rarely put a signature to his work and as a result he was an unknown artist, even if not unappreciated, for generations. However, the discovery of a mug, which included his signatory depiction of birds, was also inscribed under the base 'I. Rogers pinxit 1757'. A similar signature is also on a number of other important pieces of Worcester porcelain, dated around 1757-8, including the celebrated Corporation of the city of Worcester jugs. These discoveries have allowed researchers and collectors to finally identify the talented artist of the Worcester factory. The mug is considered to be such an important discovery that is currently exhibited in the British Museum.

This piece is undoubtedly by the same hand as the mug in the British Museum. Painted in coloured enamels with a host of different birds, including two partridges in the foreground and a kingfisher in flight above, it shows all the hallmarks of James Rogers' decoration.

It could be argued that Rogers' work is identifiable not only by his unique style of decoration but by the very absence of his signature. It makes the discovery of one of his pieces all the more exciting and porcelain collectors worldwide continue to enjoy the thrill of discovering his work.

This fine example, which demonstrates all the hallmarks associated with Rogers' decoration will be offered for sale at the BADA Antiques & Fine Fair in March.
---
Masterpiece Fair – your invitation to indulge in excellence

June 2013

From 27 June until 3 July we will be exhibiting at Masterpiece London. This is a truly unique event – housed in an impressive, purpose-built structure in the grounds of the Royal Hospital Chelsea, it brings together experts from a wealth of disciplines. Displays of antique porcelain and oil paintings stand alongside Maserati cars and Montblanc writing pens. This event is a celebration of 'distinctive design and aesthetic excellence'.

We are delighted to be exhibiting a selection of our 18th and 19th century porcelain, all pieces carefully chosen by us. Despite the diversity of the exhibits visitors will find on the 100+ stands, all exhibits will demonstrate the same exceptional quality and exquisite beauty and all exhibitors will share a passion for the things they offer for sale.

If you would like to visit us at Masterpiece London, please do get in touch and we would be happy to send you an invitation. More information about the event, together with a special preview of some of the exciting pieces we will offer for sale can be found on the Masterpiece website at www.masterpiecefair.com.

Some highlights available at the Masterpiece Fair

Such a wealth of specialist knowledge is rare to find and to celebrate this we will be inviting all visitors to our stand to enter into a competition to win a gift subscription to the English Ceramic Circle. The English Ceramic Circle is the oldest society dedicated to the study of British ceramics and it aims to advance knowledge by promoting and publishing new research on these subjects.

The circle's worldwide membership embraces collectors, curators, potters, auctioneers, dealers and all those with an interest in the history of ceramics. We would like to support all those who share this interest, whether rewarding regular clients or encouraging those new to collecting porcelain.

We hope this will encourage many people to get in touch, visit us at Masterpiece London, and let us share our passion for porcelains of the highest quality.

We look forward to hearing from you.
---
Good coverage boosts sales at BADA

April 2013

We are delighted to report good business at the BADA Fair 2013. As always we carefully selected the pieces we offered for sale, ever mindful of our existing clients' tastes as well as taking some simply stunning pieces to wow those new to collecting porcelain.

Explaining the story behind a piece is always helpful as it can also provide a nice introduction and talking point with new collectors.

As such, we were very pleased to be able to offer four Hans Sloane plates for sale. The plates, made by the Chelsea porcelain factory in around 1755 are hand painted with botanical prints showing plants, flowers and insect life in exquisite detail.

Click image above to view full detail

Hans Sloane, the famous collector and patron, who gives his name to Sloane Square and Sloane Street, in the heart of Chelsea, also became landlord of the Chelsea Physic Garden when he purchased the Manor of Chelsea from Charles Cheyne in 1712. As a scientist, Hans Sloane supported the work of the gardens, which was known as the Apothecaries' Garden at the time, responsible for the study and cultivating of plants with medicinal qualities. The Chelsea porcelain factory produced these highly decorative plates from about 1753 to 1758, and because of their botanical themed decoration, they became known as 'Hans Sloane' plates. On his death, Hans Sloane bequeathed his vast collection to the nation, a life's work of books, manuscripts, flora, fauna and curiosities, which became the founding collection of the British Museum.

The examples that we offered for sale include a number of beautiful lobed plates, finely painted with detailed botanical specimens including butterflies and insects. They not only caught the attention and imagination of the fair visitors, but were also voted 'Antique of the Month in the BBC Homes & Antiques Magazine.

We sold all but one of the plates and please get in touch if you would like details of the last one.
---
Practical Tips for buying Porcelain

January 2013

Antiques fairs can be daunting as well as magical places. Experts fill their stands with beautiful antiques and works of art, all carefully displayed to tempt and delight you. Chris Jowitt, Managing Director, has been dealing in Porcelain for over 25 years, during which time he has helped to develop great collections as well as introduce many new clients to the wonderful world of collecting. Here he gives some tips on buying at antiques fairs, whatever your budget.

Don't be intimidated – Ask the experts

We antique specialists are passionate about what we do and about the pieces that we sell. Therefore it is no hardship for us to talk about our stock. Ask lots of questions and use our knowledge. We will be happy to show you pieces and explain them, you will be better informed and it could be the start of a very long and fruitful relationship.

Start small and see where it leads

Anything you buy should be because you love it: if you love it, then you will never tire of the enjoyment the piece brings you. As your knowledge of a genre grows, you will be able to complement your piece with another, maybe by the same artist or manufacturer, or of the same era but in a different style.

Thoughtful additions to a collection could add more value

You may be a Worcester porcelain fan, but why not consider works from other factories of a similar time which show the different interpretations of styles? Here is just one fascinating example:

In 18th century Europe a taste developed for the decoration techniques and styles of the East: Kakiemon wares were produced from a handful of factories in Japan in the seventeenth century. The pieces were made using an extremely smooth and hard porcelain, which was skilfully decorated using a limited palette of red, yellow, blue and turquoise green. The designs were often quite sparsely applied, despite their incredible intricacies, which allowed the quality of the porcelain to still be visible. Below you can see examples from Chelsea and Meissen, which incorporate these decoration techniques. Individually these pieces are both beautiful and of historical interest: placed alongside each other they show an important development in the Western factories take on Eastern decoration.

So come and see us at the BADA Fair. As always, we have given great thought in selecting the pieces we will show and look forward to sharing them with you.

| | |
| --- | --- |
| | |
| Chelsea octagonal bowl | Meissen sugar casters |
---
Christmas present ideas: Pot-pourri, but not as you know it

November 2012

Christmas time will soon be upon us and thoughts turn to what to get the special people in our lives.

How many stockings have been filled with a sweet-scented bag of pot-pourri? It is usually made up of dried coloured leaves and petals, placed in open bowls, to be enjoyed visually as well as provide a gently refreshing aroma. Its origins are fascinating. Here you will find not only a recipe to make your own pot pourri, but plenty of beautiful examples of antique pot-pourri vases, which would make a very special person a wonderful Christmas present.

Pot-pourri: What it means and where it comes from

Pot-pourri which literally means 'rotten pot', was a traditional way to bring garden scents inside helping to keep away the many unpleasant odours prevalent in the eighteenth century. The Pot-pourri vase was always covered which enabled the drab mixture of pot-pourri to stay moist. This mixture, visually less attractive was not meant to be seen; the pungent aromas of the sodden petals secretly filtered through the many piercings in the beautifully decorated vases in which the mixture was placed.

A fine pair of Sèvres pot-pourris Pompadour vases

The Pot-pourri Pompadour vase designed by Jean-Claude Duplessis came in four different sizes with different shaped apertures. This particular shape corresponds to shape 'c' of the fourth size, which is recorded in the factory documents from 1764, the year of Mme de Pompadour's death, until 1770. The piercing on this vase is particularly intricate and attractive and can be found on several different Sevres pot-pourri vases.

How to make a traditional moist spicy pot-pourri

Take 4 cups of 'fermented' rose petals – use either a damask rose or any other highly fragrant rose petal: to 'fix': layer with non-ionised salt in a well aired place for 10 days until caked together, 1 tbsp. Crushed bay leaves, 1 tbsp. crushed orange peel, ½ cup of orris root powder, 2 tbsp. ground allspice, 1 tbsp. ground cloves, 1 nutmeg, 1 crushed cinnamon stick, 1 cup dried rosebuds. Mix and place in a Sevres pot-pourri vase.

Click the link below to see a fine example of pot-pourri vases and please get in touch if you would like more details of these or of any other pot-pourri vases.
---
'Good Sales and New Clients at the Masterpiece Fair 2012'

August 2012

'Masterpiece London is no ordinary event, but a forum for distinctive design and aesthetic excellence ...The variety on offer at the fair is second to none: cars, wine, contemporary design and exquisite jewellery sit alongside the best of the fine and decorative arts.'

2012 was the third outing for this event, held in the grounds of the Royal Hospital Chelsea and we were delighted to exhibit our finest porcelain there once again. The mix of exhibits is eclectic where visitors are treated to a wealth of quality items, not just art and antiques, but speed boats, Rolls Royce cars and much more. As a result, the visitor demographic is very diverse and we met some interesting new clients: some seasoned collectors, others new to the world of porcelain.

The sales during week included a rare Sèvres Hard-paste plaque of Milton, several important pieces of Meissen, including a Broth bowl, cover and stand and an unusual, and very rare, Sèvres Etui or needle holder.

We were also delighted to sell an exquisite biscuit figure of a young Queen Victoria which seemed particularly fitting in this the summer of Diamond Jubilee celebrations: Queen Victoria and Queen Elizabeth II are the only two British monarchs to reach this milestone. This piece was produced by the Parisian factory of Jean-Baptiste-Gille (1798-1868), known as Gille jeune, for the Great Exhibition, held in London in 1851. Gille chose his subject matter wisely as the event was opened by Queen Victoria herself and the firm was awarded a medal in its section.

There was Royalty at Masterpiece too, and many notable celebrities as well as plenty of members of the public, all united by their desire to seek out and purchase something special and unique.

We will be returning to Masterpiece next summer, when the event will run from 27 June to 3 July 2013 and will work hard to ensure we take some quality pieces to tempt and delight. However, in the meantime, do get in touch if you would like us to help you find that special piece. Through our extensive client base and contact with many leading private collectors, we are well placed to match interesting pieces with appreciative new owners.
---
'All the Fun of the Fair'

April 2012

We have just returned from exhibiting at the BADA Fair at the Duke of York Square in Chelsea where we were delighted to see so many visitors and introduce them to some of our special porcelain.

We joined another 102 members of the British Antique Dealers' at this year's fair, all chosen for their knowledge and expertise. Buying from exhibitors at an established event like the BADA Fair offers an added guarantee as all pieces for sale are first 'vetted', which means they have been examined by a panel of experts who check for quality and authenticity.

We were also delighted to win a special 'Gold Award for the Best Stand' awarded by a panel of expert judges which included Michael Hall, Contributing Editor Visual Arts, Country Life, Kate Trevelyan of The Burlington Magazine, Huon Mallalieu, a leading art market writer and expert on watercolours, and Judith Miller, founder and editor of Miller's Antiques Guides and a specialist on the BBC's Antiques Roadshow. The judges described our stand as:

"A most exciting and elegant display of porcelain. They have put a lot of thought into it."

The BADA Fair has an unrivalled reputation for offering its visitors quality and choice: not only in the beautiful art and antiques for sale, but also in the first-class facilities the event provides. Fine dining, an exciting line up of talks by experts and a special exhibition which this year featured a private collection of ceremonial weapons, all contribute to making a visit to the BADA Fair a truly enjoyable, and informative, occasion.

We hope those of you that visited enjoyed the BADA Fair and invite anyone to get in touch for more information about visiting us at future events in London.
---
'Ask the Expert'

January 2012

Chris Jowitt, Managing Director of W.W.Warner Antiques shares his expertise and gives some fascinating tips about all kinds of antique ceramics. First is Meissen. Chris writes...

'Even those who know very little about antique porcelain will probably have heard of Meissen. A small town located just outside the historical city of Dresden, what is it that put this place on the map and made it such a phenomenon in porcelain manufacture?

The short answer is that it was the first place in Europe to discover the recipe for 'hard paste' which gives porcelain its smooth, cool, marble-like texture which had an immediate appeal. It could be produced in large quantities and worked to produce beautiful pieces. Its versatility meant that it could be used to make both practical items, such as tableware, pots and ewers as well as purely decorative works of art.

The recipe was discovered by Johann Friedrich Bottger in 1707 and was kept a trade secret to prevent other rival factories stealing the formula. To protect its reputation and against the manufacture of fakes, the Meissen Factory introduced a signature logo of crossed swords in 1720, one of the very first trademarks.

Whilst Meissen held the recipe secret it was an industry leader. Of course, with time, the other ceramic factories of Europe caught up and developed their own identifying styles and characteristics.

But you could argue that Meissen is where it all began, in Europe at least.

So, if you see the crossed swords sign, you know what it means'.
---
James Giles and Jasper Conran
Good design is timeless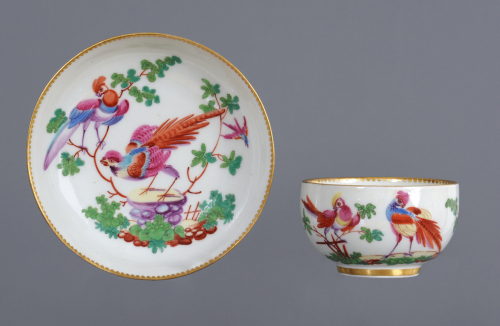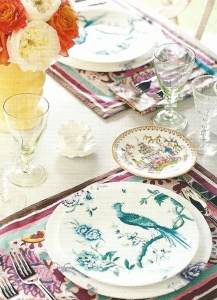 "James Giles' and Jasper Conran plate in April 2012 issue of House & Garden"
James Giles (1718 -1780) worked as a decorator of all the major porcelain factories, including Worcester, Derby, Bow and Chelsea, buying undecorated porcelain and glass to decorate according to his clients' wishes. His artistic talent, coupled with his appreciation for the fashions of the day through his work for a jeweller in his early working life, enabled him to provide bespoke luxury items for the rich and famous. He enjoyed royal patronage and wealthy clients, including Princess Amelia (second daughter of George II), the Duke of Marlborough, the painter George Stubbs and Horace Walpole.
He advertised widely, and in 'Mortimer's Universal Director', of 1763, stated that 'This ingenious Artist copies the Pattern of any China with the utmost exactness, both with respect to the Design and the Colours, either in the European or Chinese taste... [and that] He has also brought the Enamel Colours to great perfection'.
This is evident in many of the pieces in the W.W.Warner collection which demonstrate quintessential Giles decoration par excellence - birds, intricate floral decorations and fruit are among the depictions which use blue and pink and scale grounds.
His distinctive work has provided inspiration for many artists over many generations. Today, echoes of his work can be found in pieces by designers such as Jasper Conran whose latest collection for Wedgewood show remarkable similarities to Giles.
An extremely rare first period Worcester teacup and saucer, painted at the London atelier of James Giles in puce with three flower sprays within lobed cartouches reserved on a 'Jade Green' ground and gilt diaper pattern. Jade Green is one of the rarest and most distinctive ground colours used at the Giles workshop

Circa 1765-70
13 cms diameter
Crossed swords mark
An extremely fine and rare first period Worcester deep saucer (for a caudle cup) freely and abundantly decorated with English garden flowers at the London atelier of James Giles - The style of decoration is typical of the Giles workshop with a most unusual profusion of floral decoration.

Circa 1772-4.
Approx 13 cms Diameter.